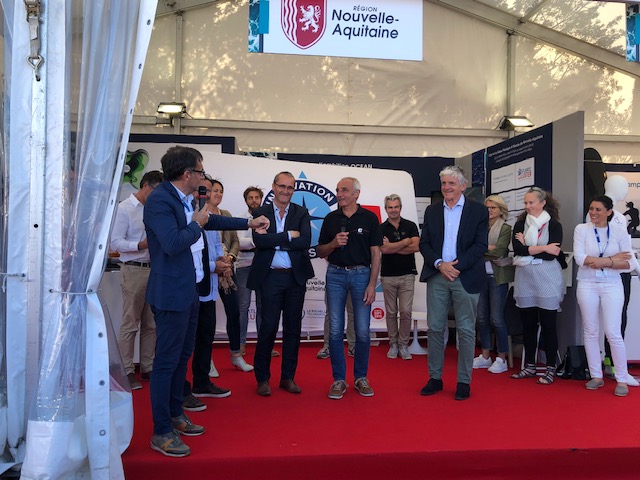 Innovation competition and Imoca christening => September news
By Adrien In News On 24/09/2019
---
Share the post "Innovation competition and Imoca christening => September news"
It is a new pride for all our team: C3 Technologies is the winner of a nautical innovation competition, jointly organized by the Nouvelle Aquitaine region and the Sud-Ouest newspaper. This Trophy, whose award ceremony took place during the Grand Pavois, rewards nautical companies that make innovation a driving force for their development.
Under the chairmanship of Lalou Roucayrol, a well-known skipper, and in the presence of the Regional Vice-President, Mr Bernard Uthurry, the jury had the difficult task of choosing, from a large and beautiful group of companies, winners who illustrate the innovative potential of the sea sector.
C3 Technologies received the Special Jury Prize, which rewarded our ability to develop innovative manufacturing principles that limit technical risks and the maintenance of manufactured parts. This award also recognizes our company's ability to develop and adapt these innovative concepts in order to apply them, as part of its diversification, to other sectors of activity, such as industry or aeronautics.
3 days later, while the festivities of the Mini-Transat and the Grand pavois were in full swing, a new Imoca was christened, also in La Rochelle ! It is Apivia's turn to be honoured. In collaboration with the CDK Technologies shipyard, we manufactured the internal bulkheads for this boat. We also made the rudders for this new generation boat, built for the Vendée Globe, which joins its comrades in this closed club.
---